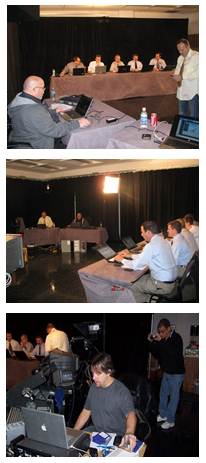 Next Live Broadcast - MikeHolt.com/live

March 14-17, 2014
ELECTRICAL CALCULATIONS
Geared towards Engineers, perfect for Contractors and Electricians - you can't be successful in the electrical trade without mastering electrical calculations. Tune in and watch how Mike makes it easy to understand ...
Interact with Mike and the panel of industry experts:
Ask questions. The team will be answering questions in real- time.
Give your feedback. Your comments and observations could help make this an even better product.
March 14-17, 9am - 5pm Eastern daily:
Friday - Dwelling Unit Calculations
Saturday - Commercial Calculations
Sunday - Transformer Calculations
Monday - Multifamily Calculations

Register to watch the live broadcasts and be notified of upcoming broadcasts!
Register Now!
Watch the Blooper videos from prior recordings:
Solar PV - Click here
Changes to the 2014 NEC - Click here
Grounding vs. Bonding - Click here
Understanding the NEC, Part 1 - Click here
Upcoming Live Broadcasts


Advanced National Electrical Code
April 12 - Special Occupancies (NEC Chapter 5)
April 13 - Special Equipment (NEC Chapter 6 and Articles 700 - 702)
April 14 - Limited Energy and Communications Systems (Articles 725 - 820)