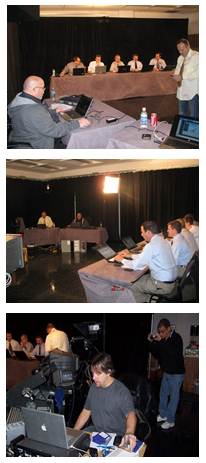 Next Live Broadcast - MikeHolt.com/live

April 28-30, 2014
National Electrical Code Review Chapters 5 through 8

Interact with Mike and the panel of industry experts:
Ask questions. The team will be answering questions in real- time.
Give your feedback. Your comments and observations could help make this an even better product.
April 28-30, 9am - 5pm Eastern daily:
Monday, April 28 - Special Occupancies (NEC Chapter 5)
Tuesday, April 29 - Special Equipment (NEC Chapter 6 and Articles 700 - 702)
Wednesday, April 30 - Limited Energy and Communications Systems (Articles 725 - 820)

Register to watch the live broadcasts and be notified of upcoming broadcasts!
Register Now!
Watch the Blooper videos from prior recordings:
Solar PV - Click here
Changes to the 2014 NEC - Click here
Grounding vs. Bonding - Click here
Understanding the NEC, Part 1 - Click here