Farmers Combat a Health Risk for their Animals
To reference source [ KSL-TV ], click here [ Requires Real Player ]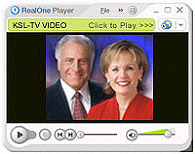 Western Utah dairy farmers say they now know why they've been devastated in recent years by thousands of mysterious cow deaths.
They're pursuing a 100-million dollar lawsuit against the Intermountain Power Plant, claiming that electricity traveling through the ground is the cause of all their heartache.
They claim the power plant puts cows at risk by putting current into the ground.
Environment Specialist John Hollenhorst joins us with the exclusive story.
The lawsuit says the farmers have losses of more than 100 million dollars... because of a phenomenon called Stray Voltage.
The cows are not dying from electrocution.
But farmers claim the stress from constant shocking has caused thousands of cows to get sick and die.
In 1995 the Nye family moved their dairy farm from crowded Connecticut to the wide open spaces of Utah. They never realized how many sick and dying cows they'd have to tend to.
MARIA NYE/DAIRY FARMER: "HOW MANY TEARS DO YOU WANT?"
Dairy farmers expect a few cows to die each year. But dairies near the Intermountain Power Plant have unusually high death rates, in some cases 5 or 10 times ormal.

Maria Nye/Dairy Farmer: "WHEN YOU GO OUT AND LOOK AT A COW AND SAY, 'I CAN'T HELP YOU', YOU JUST WANT TO SIT DOWN AND CRY."
Mike Cherniske says the stress on his family has been extreme, losing hundreds of cows a year.
Mike Cherniske/Dairy Farmer: "NO MATTER WHAT VETS YOU CALLED OR WHAT YOU TRIED TO DO, YOU COULDN'T MAKE IT BETTER. AND WE HAD EXHAUSTED EVERYTHING."
For a long time, farmers have noticed cows hesitating at the water trough. Is it possible they're afraid of getting an electrical shock?
The turning point for Cherniske came last year when the power plant shut down a turbine for maintenance.
MIKE CHERNISKE/DAIRY FARMER: "A LOT OF COWS DYING. AND ONE DAY, LIKE A LIGHT SWITCH, IT STARTED GETTING BETTER."
He went from 50 cows a day in his hospital barn to 1. But sickness returned when the plant revved back up.
Cherniske says he hired three national testing firms that repeatedly detected low-voltage ground current.
MIKE CHERNISKE/DAIRY FARMER: "I WANTED TO BE SURE. SO, I'M A HUNDRED PERCENT SURE."
You can hear electricity crackling in the big power lines that carry IPP's power to Los Angeles.
The dairies' lawsuit claims some electricity returns to Utah through the ground because IPP deliberately uses the ground as a conductor to close the circuit.
The lawsuit also says current may flow between the plant and this grounding station 26 miles away.
The farmers say the constant stress from electrical shocks makes cows vulnerable to disease.
MARIA NYE/DAIRY FARMER: "IF SOMEONE WAS WALKING AROUND BEHIND YOU ALL DAY WITH A PIN POKING IN YOU, AFTER AWHILE YOU WOULD JUST NOT FEEL VERY GOOD."
Power officials refused interviews.
George Cross/I.P.P. Chief Operating Officer: "The allegations that have been made against this project are false." The ground is used as return path "only in emergencies and only minutes out of the year."
Mike Holt's Comment: The electrical distribution system in the United States is designed to use the earth as the neutral return path. I have no doubt that return neutral current (called stray voltage/stray current) is part of this problem. For more information on utility distribution grounding systems world wide, see https://www.mikeholt.com/documents/mojofiles/electricalearthingworldwide.pdf
MARIA NYE: "THE HARMONIC SIGNATURE THAT IS FOUND HERE IN TESTING BELONGS TO THAT PLANT. I THINK IT DOESN'T GET MUCH CLEARER THAN THAT."
The dairies filed their hundred-million dollar lawsuit in Los Angeles because that city uses nearly all the plant's electricity.
A furious pre-trial battle is underway.
Power interests want the trial moved to Millard County, where support for the plant is strong.