This two-part program works because it is designed with a complete understanding of the steps you need to take to pass your exam the first time. Everything in this two-part system has been included to give you the technical skills and mental strategies you will need to be confident on exam day. Our years of experience working with thousands of students has given us a unique and successful approach to getting you prepared. There is no better way for you to prepare for your exam than the Supreme Training Program.
I cannot emphasize enough how amazing this class was. With the class and the home study material I had no problems in passing my unlimited electrical contracting tests. Thank you!! The material was exactly what I needed… John was amazing and is a top notch instructor.
Sean V. More ...
Homestudy DVD Program
Build foundation of knowledge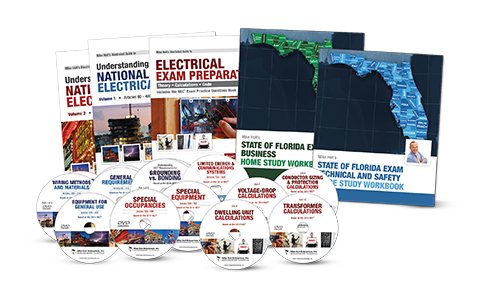 For the program to be successful, this home-study portion must be completed prior to the live class.
What's included:
The NEC Training Module. Knowing the Code is one of the most essential elements for your success. You will receive Understanding the National Electrical Code Volumes 1 & 2 textbooks plus 10 DVDs that will walk you through the Code chapter by chapter.
Electrical Calculations Training. The Exam Preparation textbook and 4 DVDs give you practice and confidence in answering and solving the calculations problems on your exam.
Technical and Safety Reference Workbook. Your exam is based on several reference books that you need to be comfortable navigating on test day. These workbooks will provide you with the practice you need on the types of questions on your exam.
Business Workbook. To pass the Business portion of your exam you will need a thorough understanding of the FL Contractors Manual. This workbook will give you extensive practice on those topics and give you the opportunity to get familiar with this part of your exam.
Test Taking Boot Camp
6 Days of intense training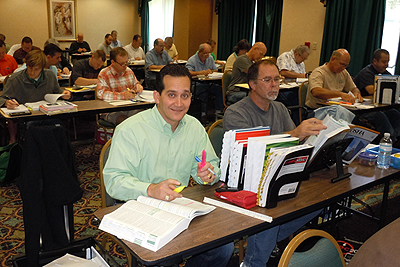 This class will teach you how to pass the exam; you'll learn techniques, tips and strategies to give you confidence you need on exam day.
You'll learn how to:
Learn how to manage the stress of this high-stakes exam.
Learn proven test-taking techniques.
Learn how to tab and highlight your exam books to aid in your success on test day.
Approach your test strategically to manage the time and understand the questions.
You can't afford to miss this class if you want to pass!
Florida Alarm 1
Supreme Program

$1595
Includes: 5 Workbooks • 14 DVDs • 6 Day Live Exam Prep Class
Have questions about the program? Call us now at 888.632.2633 or Click Here
Ready?

Choose your class date and we'll send out your materials today.

Hilton Garden Inn, Lake Buena Vista-Orlando
11400 Marbella Palm Court
Orlando, FL 32836
407-239-9550

Hilton Garden Inn, Lake Buena Vista-Orlando
11400 Marbella Palm Court
Orlando, FL 32836
407-239-9550
Get the results you want from a program that is proven!