Hello, User




ACCOUNT
×
Sign in to Your Account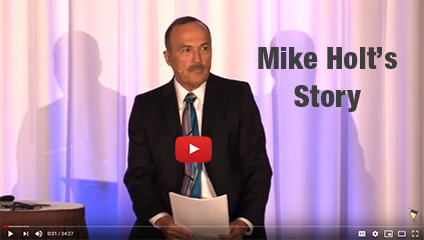 A picture is worth a thousand words.
Mike's training DVDs can transform your career...
We are committed to providing you with free resources to help you succeed.
For that reason, Mike has made these videos, from his training DVDs, available to you for free. You'll find these clips instructional and entertaining — and you'll see why his DVDs can help you further your career. Watch Mike's Story. He shares his personal journey and the struggles and events that shaped him into who he is today.
NATIONAL ELECTRICAL CODE CLIPS
- Videos are based on the US Standard - NFPA 70 National Electrical Code
| | Created |
| --- | --- |
| Purpose of the NEC [90.1] (39min:41sec) | 2017 |
| How to use the National Electrical Code (29min:14sec) | 2017 |
| AFCI Receptacle Replacements [406.4(D)] (2min:43sec) | 2011 |
| Aluminum Conductor Termination Methods [110.14] (8min:46sec) | 2020 |
| Air-Conditioning Circuit Sizing [440.4(B)] (5min:32sec) | 2020 |
| Arc-Flash Hazard Warning [110.16] (18min:15sec) | 2011 |
| Are all terminals rated 75 Degrees C? [110.14] (2min:08sec) | 2020 |
| Are boxes required for splices and terminations? [300.15] (14min:08sec) | 2020 |
| Available Fault Current Label [110.24] (15min:13sec) | 2011 |
| Boat Dock and Marina Safety [Article 555] | 2019 |
| Branch Circuit Multiwire [210.4] (19min:37sec) | 2020 |
| Bonding 277/480V Metal Raceways [250.97] (3min:42sec) | 2008 |
| Bonding Bushing Requirements for Branch Circuits and Feeders [250.97] (29min:35sec) | 2020 |
| Bonding communications systems and the hazard! [800.100] (55min:05sec) | 2020 |
| Bonding, Communications Equipment [250.94] (4min: 42sec) | 2020 |
| Bonding Covers and Canopies [314.25] (1min:45sec) | 2008 |
| Bonding, Metal Raceways [250.97] (6min:59sec) | 2020 |
| Branch Circuit Conductor Sizing [210.20] (1min:13sec) | 2008 |
| Can I replace switch and receptacle yoke screws? [404.10(B) and 406.5] (2min:43sec) | 2020 |
| Can I Terminate the Equipment Grounding Conductor to the Transformer X0 Terminal [250.30(A)] (2min:48sec) | 2020 |
| Can I use 500 kcmil conductors for a 400A service [310.12] (1min:53sec) | 2020 |
| Can I use a chase nipple with a RMC coupling? [90.4] (6min:03sec) | 2020 |
| Circuit Identification [408.4] (6min:18sec) | 2008 |
| Class 1, Class 2, and Class 3 Remote-Control, Signaling, and Power-Limited Circuits [725.1] (9min:00sec) | 2020 |
| Conductor Ampacity Correction and Adjustment [310.15] (42min:02sec) | 2014 |
| Conductor Insulation [310.4] (19min:05sec) | 2020 |
| Conductor Insulation Details [Table 310.104] (20min:30sec) | 2014 |
| Conductor Sizing Based on Terminal Rating [110.14(C)] (18min:56sec) | 2014 |
| Do I need a box for low voltage splices? [725.3] (3min:08sec) | 2020 |
| Electric Vehicle Charging Equipment [625.1] (1min:32sec) | 2014 |
| Electric Vehicle Power Transfer System [625.1] (5min:0sec) | 2020 |
| Emergency Disconnects [230.85] (7min:23sec) | 2020 |
| Emergency System Classification [700.2] (2min:41sec) | 2020 |
| Emergency System Sources of Power [700.12] (7min:20sec) | 2014 |
| Energy Storage Systems (ESS) [706.1] (2min:56sec) | 2020 |
| Equipment Bonding [250.4(A)(2)] (10min:36sec) | 2020 |
| Equipotential Bonding [680.26] (20min:51sec) | 2017 |
| Feeder Conductor Sizing [215.2] (18min:13sec) | 2017 |
| Feeder Taps 240.21(B)(1) (13min:22sec) | 2011 |
| Fire Pump Motor Circuits [695.6(B)] (13min:59sec) | 2014 |
| Fire Rated Walls, Ceilings and Floors [300.21] (9min:59sec) | 2011 |
| Fluorescent Light Disconnect [410.130(G)] (2min:24sec) | 2011 |
| Gas Pipe Bonding Requirements [250.104(B)] (12min:16sec) | 2020 |
| GFCI Protection Requirements [210.8 NEC] (12min:12sec) | 2020 |
| Ground Rods at Metal Poles [250.54] (52min:20sec) | 2020 |
| Grounded Versus Ungrounded Systems [205.4] (35min:35sec) | 2014 |
| Grounding - Auxiliary Electrode [250.54] (6min:20sec) | 2014 |
| Grounding - Effective Ground-Fault Current Path [250.4(A)(3)] (5min:12sec) | 2014 |
| Grounding - Ground Resistance Measurement [250.53(A)(2)] (26min:27sec) | 2014 |
| Grounding - Objectionable Current [250.6] (29min:13sec) | 2014 |
| Grounding - Safety Fundamentals [250.4] (1hour:13min:18sec) | 2014 |
| Grounding a Corner Grounded Delta System [250.30(A)] (3min:56sec) | 2020 |
| Grounding and Bonding [404.9] (4min:24sec) | 2017 |
| Grounding Communications Equipment [250.94] (3min:44sec) | 2014 |
| Grounding Electrode Conductor Sizing [250.66] (14min:47sec) | 2020 |
| Grounding PV - Equipment Grounding [690.43] (5min:19sec) | 2014 |
| Grounding PV - Grounding Electrode System [690.47] (34min:00sec) | 2014 |
| Grounding Service Equipment [250.24] (11min:40sec) | 2014 |
| Hazardous Classified Locations [500.5] (11min:25sec) | 2014 |
| How do I size an LB? [110.3(B)] (3min:28sec) | 2014 |
| Inspectors Authority [90.4] (16min:39sec) | 2011 |
| Interconnected Electrical Power Production Sources [705.1] (5min:57sec) | 2020 |
| Is it legal to splice wires in a box that are too short? [300.14] (8min:54sec) | 2020 |
| Low Voltage Systems Power Source [725.121] (5min:25sec) | 2014 |
| Marina and Boat Dock Bonding [555.13] (5min:48sec) | 2020 |
| Marina and Boat Dock Leakage Current Measurement Device [555.35(B)] (23min:06sec) | 2020 |
| Marina and Boat Dock Safety [Article 555] | 2019 |
| Marina Ground-Fault Protection [555.3] (9min:49sec) | 2011 |
| Marinas, Boatyards and Docking Facilities - Bonding of Noncurrent-Carrying Metal Parts [555.13] (5min:48sec) | 2020 |
| Mechanical Continuity [300.12] (4min:51sec) | 2008 |
| Motor Branch Conductor Sizing [430.22(A)] (24min:57sec) | 2014 |
| Motor Branch Short-Circuit and Ground-Fault Protection [430.52] (26min:57sec) | 2014 |
| Motor Full Load Current (FLC) [430.6(A)(1)] (12min:12sec) | 2014 |
| Motor Nameplate Full Load Amperes (FLA) [430.6(A)(2)] (19min:23sec) | 2014 |
| Multifamily Optional Load Calculation [220.84] (9min:13sec) | 2014 |
| Neutral Conductor, Bonding Conductors, and Bonding Jumpers [250.102] (1min:35sec) | 2020 |
| Neutral Identification [200.6] (6min:18sec) | 2008 |
| NM Cable (Romex) Uses [334.10] (5min:36sec) | 2014 |
| Outlet Box Sizing [314.16(A)] (14min:44sec) | 2014 |
| Overhead Conductor Clearances [225.18] (1min:40sec) | 2008 |
| Patient Care Area Wiring Methods [517.13] (11min:26sec) | 2014 |
| Plenum Space Wiring Methods [300.22] (5min:23sec) | 2014 |
| Pull and Junction Boxes, 4 AWG and Larger [314.28] (9min:23sec) | 2017 |
| Purpose of System and Equipment Grounding [250.4(A)] (13min:48sec) | 2014 |
| PV - Circuit Sizing [690.8] (25min:39sec) | 2014 |
| PV - Equipment Grounding [690.43] (5min:19sec) | 2014 |
| PV - Grounding Electrode System [690.47] (34min:00sec) | 2014 |
| PV - Identification of Power Sources [690.56] (7min:32sec) | 2014 |
| PV - Point of Utility Connection [705.12] (1hr:23min:43sec) | 2014 |
| PV - Scope [690.1] (39min:20sec) | 2020 |
| PV - Systems on Buildings [690.12] (6min:05sec) | 2014 |
| PV - Unbalanced Systems [705.100] (6min:52sec) | 2011 |
| PVC Expansion Fitting [352.44] (9min:47sec) | 2011 |
| Raceway Sizing [300.17 and Annex C] (13min:20sec) | 2014 |
| Readily Accessible Definition [Article 100] (2min:56sec) | 2014 |
| Receptacle Outlets - Number on a Commercial Circuit [220.14(I)] (3min:20sec) | 2014 |
| Receptacle Outlets - Number on a Dwelling Circuit [220.14(I)] (4min:39sec) | 2014 |
| Receptacles in Damp or Wet Locations [406.9] (2min:56sec) | 2020 |
| Receptacle Replacement Without Ground Wire [406.4(D)(2)] (3min:07sec) | 2011 |
| Receptacles Rated 15A on a 20A Circuit [210.21(B)(3)] (3min:30sec) | 2014 |
| Residential service and feeder conductor sizing [310.12] (58min:52sec) | 2020 |
| Satellite Dish Grounding [810.21] (8min:05sec) | 2014 |
| Service Conductors Separation [230.7] (3min:17sec) | 2011 |
| Service Disconnecting Means [230.71] | 2020 |
| Service Equipment Surge Protection [230.67] | 2020 |
| Sizing Equipment Grounding Conductor [250.122] (3min:49sec) | 2017 |
| Sizing the Grounding Electrode Conductor [250.66] (14min:47sec) | 2020 |
| Splices Permitted in Panel Enclosure [312.8] (2min:47sec) | 2011 |
| Stray Voltage [Neutral-to-Earth Voltage (NEV)] [680.26(B)] (44min:53sec) | 2020 |
| Suspended Ceiling Low Voltage System [Article 393] (4min:56sec) | 2014 |
| Swimming Pool Bonding | |
| Swimming Pool Feeder Wiring Methods [680.25] (10min:32sec) | 2014 |
| System Bonding Jumpers for Different Types of Systems [250.30(A)] (8min:33sec) | 2020 |
| Tamper-Resistant Receptacles [406.12] | 2020 |
| Tell me more about lightning and electrical systems (12min:16sec) | 2020 |
| Transformer Overcurrent Protection [450.3(B)] (7min:7sec) | 2008 |
| Transformer Secondary Conductor Sizing [240.21(C)] (8min:51sec) | 2014 |
| Transformers - Understanding Delta/Delta Connections [250.4(A)] (26min:36sec) | 2014 |
| Transformers - Understanding Delta/Wye Connections [250.4(A)] (12min:11sec) | 2014 |
| Understanding System Voltages [250.30(A)] (46min:29sec) | 2020 |
| Voltage Drop 1 of 2- NEC Recommendation [210.19(A)(1) Note 3] (7min:06sec) | 2014 |
| Voltage Drop 2 of 2 - Conductor Size Example[210.19(A)(1) Note 3] (11min:42sec) | 2014 |
| What is the point of attachment [230.26] (2min:57sec) | 2020 |
| Why do they call it a ground fault and not a neutral fault? [100] (2min:56sec) | 2020 |
| Why does the GEC to the building steel have to be so big? [250.66] (4min:40sec) | 2020 |
| Working Space about Electrical Equipment [110.26] (23min:20sec) | 2014 |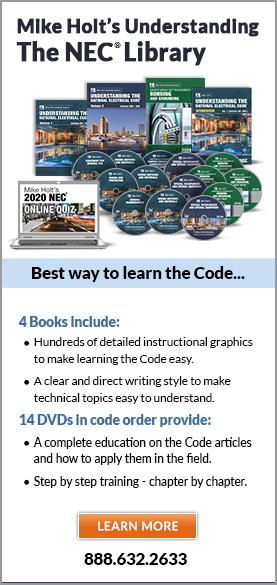 From what I have observed in my 35 year young life is that Mike Holt wants to teach you to be an electrician and has available information to do so, not just to get you to pass licensing tests.
D. Steele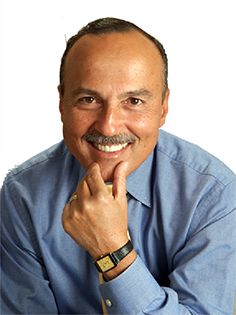 "... as for me and my house, we will serve the Lord." [Joshua 24:15]
© Mike Holt Enterprises of Leesburg Inc,
3604 Parkway Boulevard, Suite 3, Leesburg, FL 34748
NEC®, NFPA 70®, NFPA 70E® and National Electrical Code® are registered trademarks of the National Fire Protection Association
"... as for me and my house, we will serve the Lord" [Joshua 24:15]