Florida Contractor's Exam
Our Commitment
We are committed to your success and are here to help you from start to finish! We'll guide you through every step of preparing for and taking your exam to make sure that you have the confidence to sit for the exam and pass. Once you pass your exam, we'll be here for all your future electrical training needs.
Why Our Program is Successful
We know what it takes to get you ready for the test. Our method works because our program is expertly designed to:
Prepare you for the technical and business questions that you will get on your exam
Give you techniques and tools to help you navigate your reference books during the test
Coach you on the mental aspect of preparing for the test Show you how to manage your time during the exam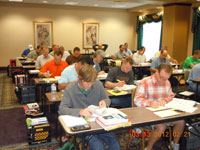 You can't afford to go anywhere else if you want to pass your exam! Read more >
Have questions about our programs? Call us at 888.632.2633 or Click Here.
floridaexams@mikeholt.com | 888.632.2633