What our customers are saying about our Florida Exam Preparation Program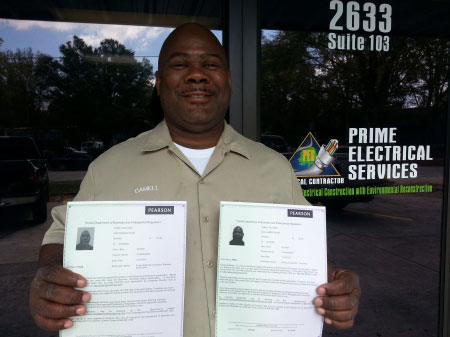 John and George were great they made the class fun. I could not have done this without Mike Holt's Program.

Camell Williams

John & Mike
I wanted to drop this short note to say THANK YOU for all your efforts. I passed the technical portion of the Alarm 1 test today. I passed the business in October, both on the first try! I had to go to Gainesville, FL to take it, but it was worth the drive. The material in the workbooks, class handouts and NEC Notes really hit the nail on the head. John told us a LOT of good stuff - it was all TRUE. This class was THE BEST!!!!!
I will recommend this to anyone who asks.THANKS A MILLION.


John Kennelly

The Florida State Exam class was great and John and Jorge were both excellent, I would recommend it to anyone trying to get either of the electrical licenses.  I would rate the course a 10. I learned plenty but, the most important was precisely how to prepare for the test including what to expect the testing environment to be like, what the test questions will be like, and how they may ask for answers in different ways. All around John was not just a great instructor but he was also a great guy to spend that much time with.  He did a good job of breaking up the monotony of studying with good humor and other insights relevant to the trade. 

Jonathan McAuley

I took the tests 2 days after the class and passed, so the answer is ABSOLUTELY the content is appropriate and relevant...John made it fun which helped break up the brain overload.  He did a fantastic job and I would recommend this class anytime.

Kathy Nugent