Electrical Inspector Exam Preparation
Looking to become an Electrical Inspector?
Being an Electrical Inspector, an enforcer of electrical codes and regulations, requires a rock-solid knowledge of the National Electrical Code and electrical systems. There's no better place to learn the Code than with nationally recognized expert Mike Holt. His Inspector Package is the ideal tool to provide you with the knowledge you need to prepare for your certification exam.
Heres how choosing Mike Holt products will work for you...
Understand the material faster with the hundreds of full-color, instructional graphics showcased in the textbooks.
Deepen your understanding of the rules and their practical application, with the DVDs that provide an inside view and in-depth analysis by Mike Holt and his panel of industry experts.
Gain the confidence you need for your exam by working through the practice questions and following the Study Guides and Tips.
Study when you want, where you want, and at your own pace.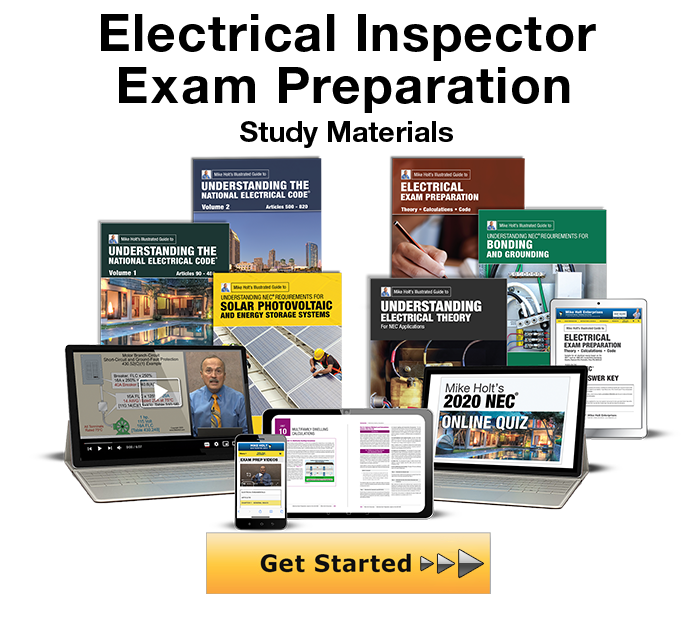 Contact your state and/or local jurisdiction to get the classifications for the different types of electrical inspector,
and find out:
If you need pre-approval from the board to sit for an exam
What are the pre-requisites and requirements for obtaining that certification
Get the Candidate Booklet and follow the instructions for scheduling your exam
Note: You might want to consider applying for both an Inspector Certification and a Plans Examiner Certification if
they are offered. They are 2 different licenses and the exams are keyed to the job descriptions but obtaining both
licenses really makes a candidate more valuable to the municipality or city.
Click here or on the image at the top-right of the page to get started.
For personalized help in choosing the right program for you, call 888.632.2633 or email info@MikeHolt.com.
Applying to be a Florida Electrical Inspector?
Click here for a step-by-step guide