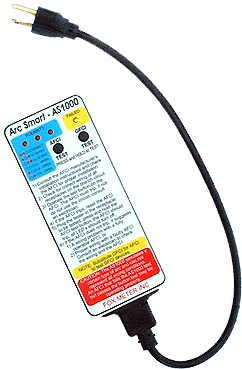 Have you been waiting for a great price on the UL listed, field proven AFCI tester with thousands of units in use? The AS1000 Arc Smart AFCI tester, normally $169.00 plus shipping and handling, is now available at a Mike Holt Special Price of only $97.50, including FREE UPS ground shipping to locations within the continental US. A discount of over 40%! This limited time offer is being made available to readers of the Mike Holt news letter through August 1, 2003. Visit ArcFaultTester.com for more information about the AS1000.
Call our operators at (815) 758-7000 to place your order, if the line is busy, please call back. Or, Fax your order (including quantity; name; address; credit card type, number, and expiration date; and your phone number) to (815) 758-1640. Be sure to request the Mike Holt discount when placing your order.

Fox Meter, Inc.
333B Dietz Av.
DeKalb, IL 60115
This special offer applies to credit card (Visa, Master Card, or American Express) orders placed by 5:00PM central time, August 6, 2003.