Contractor Story Part 2 of 3
December 31, 2003

'04 Forecast - Nonresidential (Part 2 of 3)
I have a personal rule on markets, as I've said here before, encapsulated in the sentence: "All markets go to extremes." I didn't invent it. But it seems (to me) to be the one thing that actually works.
Several years ago (I think it was 2001), one of the construction forecasters claimed that the industry wouldn't have a big problem with office building vacancies in this downcycle because, "there hadn't been any overbuilding this time." This forecast was incorrect. Office building vacancy rates have gone from around 7% during the dot-com bubble to 16.8% (nationally) as of Q3 2003. Further, you can find real estate analysts who believe that to be an understatement of the true situation, as leased space that is unoccupied -- some of it put on the market for sublease by the lessees -- is not counted in that space. Perhaps the "true" Q3 national office vacancy rate was about 18% . . . or 19%.
What happened here? The answer isn't in Alan Greenspan's speeches, or debates in Washington -- or even in GDP numbers. The answer is in WORKERS, whether they are being hired, and precisely what they are being hired to do! You don't lease office space or retail space or a warehouse unless you plan to put people in that space from seven to 10 hours a day (or more). Employment, then, is fairly important -- at least to those of us in construction; and, from a certain vantage point, to those who sell products and/or services to other businesses. BUT: Whenever you hear employment data discussed or read about it, here is what you are likely to learn:
a. We have lost so many manufacturing jobs since 2000.

b. It's a problem/not a problem for George Bush's re-election.
With (a) and (b) being extremely UNHELPFUL, I thought it would be worthwhile to start the nonresidential discussion with a look at where we, as a nation, are putting people to work.
Selected Employment Data Comparing 2003 and 2003

Date
All Employers
Private Service Providers
Retail
Professional & Business Services
June 2000
107,977,000
87,061,000
15,236,000
16,812,000
June 2003
108,496,000
87,052,000
14,944,000
16,151,000
Source: Bureau of Labor Statistics data, not seasonally adjusted, for cited months.
First, there's been no growth from 2000 to 2003. Comparing June-to-June, retail employment was down 282,000 (1.85%) and prof/biz services were down 661,000 (3.9%). Total services employment among private employers was flat. Incidentally, I went back and compared other service "niches" for the same period. Here are some factolitos about other workers classified under "private service providers:"
Information providers: 3.3 million employed as of 6/03, down 9.7% from 6/00. This is my neck of the woods, I think. I get a lot of business magazines, covering everything from wholesaling to warehousing to plumbing to sheet metal. Most of them look like they got the flue that's going around . . . roughly three years ago. Also, I would guess the dot-com element's employees -- now doing something else or unemployed -- were included here in 2000.

Financial sector: 8.03 million employed at 6/03, UP 3.8%. Not all of that is attributable to real estate work; at 6/03, there were 2,085,100 people employed in that subsector, up 2.2% from 6/00.

Education & healthcare: The government combines these two sectors and they are, together, UP 1,422,000 people in the three-year period. That takes us to 16.34 million people working in these sectors. That's a gain of 9.5%. There's no recession in these sectors. This has been good for electrical contractors, as both types of buildings absorb one heck of a lot of wires, cables, terminations, and other equipment!

Hotels & motels: This is the "leisure and travel" category tracked by the government. The employment numbers don't show the catastrophic impact on this industry of 9/11/01, and I'll be damned if I know why. Employment at 6/03 was 1,986,400, down only 3.7% from three years earlier.

Government (all): Employment at 21.5 million at 6/03, up 2.8%. To put that in perspective, total private nonfarm employment shows a loss of 2,646,000 jobs (down 2.4%) over the same period.
---
What conclusions can we draw from all of this? Without being disputatious, allow me to draw a few:
A. Our country thrives on growth, as does the construction industry; as do most electrical distributors. Growth has stagnated. The private sector's employment total is down 2.4% in the three years to June 30, 2003.
B. In contrast, the 1990s were a great decade for growth. The data from BLS show that 19.5 million new jobs were added by the private sector between June 1993 and June 2000. There were 92,567,000 people employed in June 1993. The growth is 21.1% over the seven-year period. That creates the need to add a lot of buildings (unless one thinks most of those 19.5M would be more comfortable doing their work outdoors, at picnic tables, in the shade of the trees).
C. Growth in the financial sector would, you'd think, help modify the decline in the office-building sector. But it hasn't, perhaps because that growth is modest compared with the 661,000 jobs lost in the prof/biz services sector.
So it is as the consensus forecast says it is: If our economy grows, and our businesses invest money in equipment and hire people, the electrical construction industry -- including manufacturers and distributors -- will come back to life.
Office Buildings
MHC's figures show a slight recovery in square footage of new office building construction, from 140M in 2003 to 147M in 2004. The actual sq. ft. in 2002 was 156M -- and it was 300M in 2000! In dollars, MHC projects contracts for new office building construction at $19.75B in 2004, up 10% from 2003 -- but almost precisely equal to the 2002 total.
Reed Business Information, in a 9/4/03 "construction market overview," noted that "Office employment is up, although so far it is entirely in neighborhood-based industries and not yet in the industries typically found in downtown towers or suburban office parks." Reis Inc., a real estate data provider, gives the national "Class A" office building vacancy rate as 16.8% in Q3.
Merrill Lynch projects a 2.6% gain in nonresidential investment in structures for 2004. That's not much, of course, but it's more than predicted by MHC -- and more than the 16.4% decline in 2002 (over 2001) and the 5.3% drop in 2003.
Interestingly enough, prices paid for office space (by buyers of buildings) haven't gone down in recent years. Why? One reason is Real Estate Investment Trusts; there are plenty of them and they know that buying at the bottom produces good returns later on. Another reason is low interest rates; if you can get an annual return of less than 2% in U.S. government short-term notes, that's not so hot -- and if interest rates are likely to rise at some point, investing on a longer-term basis really isn't smart.
As noted in Development, a magazine of the National Association of Industrial and Office Properties: Wells Real Estate Funds "has a conservative,long-term mentality. The company looks as the markets over a seven-to-12-year time horizon." I don't know a thing about Wells, but I don't think the company is atypical.
---
I've seen projections that office construction will rise in 2004. I don't believe them. First, we have to start absorbing that empty space; I'm not sure we'll get that started until midway through 2004 -- or thereafter. Then, there is the intermediate- and long-term outlook for office building occupancy. Here are a few dogs that aren't barking in the "rosy scenarios" that seem to embrace even the office market:
1 -- Our employment decline is NOT horrible -- but the bottom has fallen out of the office building rental market anyway! Clearly, when the office vacancy rate was at 7% in late 1999 and early 2000, some companies (dot-coms?) had rented space that was not yet occupied. So despite the cheery prediction that "we" had not overbuilt office space . . . we had, and in a big way. Demand was anticipated, and space was leased, for people who -- literally -- did not exist. I can go into detail on this; either trust me or treat this as an assertion instead of a fact, but don't throw it away.

2 -- Electrical and construction industry types thrive on growth. When employment surged 21% in seven years, we had a ball. In the past three years, construction has stagnated. In fact, while it's omitted from the data above, one of the best-performing industries, in terms of employment, has been CONSTRUCTION! Employment growth is the key here. Unfortunately, the "overhead" types in construction don't take up much space (and much of it is in site trailers).

It's important to keep this in mind: GROWTH, not creeping-up-slowly gradualism, is what made the market what it was in the 1990s; remember those numbers -- 92 million employed as of 1993, with 19.5 million added in a seven-year period! I don't think we'll get back to the late 1990s-era type of construction markets anytime soon. But to even get to a place where nonresidential construction got a bit hotter, we'd need GROWTH . . . not a slow incline. We may yet get it, in 2005-06-07 -- but it is unlikely to come all at once in the 366 days of 2004!
3a -- Some gradually increasing percentage of our full-time employees in the U.S. work from home. Count me as ONE. I'm in an office building to visit clients, and that's it. But it's not just self-employed idiots (like me) -- people who work for corporations increasingly are spending a percentage of their work time at home, if not all of it.

3b. One of the "plug" factors the Labor Department puts into the employment data each year is a guess (that's right, a nonstatistically based GUESS) as to how many people have gone into business for themselves. The number added is hundreds of thousands each year. These folks are counted as "employed," even though they work for themselves (and may make as much, more, or significantly less than they made as employees of going enterprises). Leaving alone any quarrels as to how many there are, it seems certain that some percentage of this group works from the attic, basement, or kitchen table.

3c. If you read the trendy business publications, less office space is needed -- in some quarters -- thanks to the neat-new-idea-type stuff that big companies loudly try and hype (and then later quietly disassemble and try to forget). I'm referencing these things: Workers without offices, worker "hoteling," offices without private spaces, wireless workplaces where you can work anywhere (but no specific single place has your name on it) . . . and so forth.

Sum up 3abc -- from the telecommuting to the home-based workers to this no-office office nonsense, the net is a reduction in space occupied.

4 -- There is also "offshoring" or outsourcing of services work. I spent a good deal of time recently troubleshooting a Microsoft XP-created problem with an H-P printer that formerly worked just fine -- on the phone, with a great H-P customer service troubleshooter. I got an answer to my phone call right away, which shocked me; it was, after all, a major holiday weekend. Yes, I am stupid, I picked a fine time for the Microsoft-promoted "easy" upgrade to XP!
NOTE: This person worked in New Delhi, India. It wasn't Thanksgiving Weekend for him; he didn't celebrate a 17th century dinner with the Indians, as we do. I believe, in fact, that he has dinner with Indians just about every night of his life! OK -- not the same Indians (actually, Europeans supposedly thought they were one and the same).

There is some services "offshoring" now and, rumor has it, will be a lot more later. While these jobs are NOT counted in U.S. totals, they are part of what our companies do (H-P is a U.S.-based company). If this kind of thing works -- I'm sorry to say the Indian guy's advice and patience did not work, and I got out my trusty hatchet and destroyed the computer AND printer -- there will be a reduced need for more and more square feet of U.S. office space, won't there?
Multifamily
Apartment buildings are a kind of orphan in much of the construction forecasting. If you looked at the NAHB forecast, it usually includes multifamily construction, but gives it short shrift. A look at the FMI data in the table on residential (Part One) shows multifamily new construction to be less than one-tenth of the dollars in the residential market overall. MHC compacts office, hotel/motel, apartment, and other buildings into an "income properties" category which groups disparate types of buildings and, thereby, drives me insane.
Despite this small size and apparent lack of attention from forecasters, the apartment market has been very interesting of late. According to an article in National Real Estate Investor (9/03), in an article discussing apartment buildings: "This is one schizophrenic downturn. Nationally, the vacancy rate is approaching a decade-long high, and developers have yet to slow new construction. Now, instead of predicting a recovery within 12 months -- as they have done for the past two years -- executives are saying the turnaround is at least 18 months away . . . But here's the crazy part: Prices have hit historic highs and are rising -- there hasn't been a better time to be an apartment seller in decades."
By "prices," the article means prices paid for buildings. On the rental end, apartment rents have been declining. But the same factors noted above about office buildings obtain here: Alternative investments are unattractive, in terms of returns. Additionally, there is a demographic kick with apartments: The "Baby Boom Echo" generation is coming -- entering the age at which people leave or graduate college and form their own "households." According to that same NREI article, the "Echo" boomers -- born from 1977 to 1997 -- represent about 25% of the population.
So while the number of people aged 25 to 34 declined by 1.3 million between 1995 and 2000, the number aged 20 to 34 (don't ask me why they mixed apples and pomegranates here) will increase by 1 million between 2005 and 2010. That's another driver. Here's are figures from the magazine on "delivered" (additional new) rental units as the result of construction, by year:
2000 to 2003 -- construction started on about 175,000 new units each year.
2003 -- 111,000 new units "delivered," according to Reis, Inc.
2004 -- 101,000 new units "delivered."
2005 -- developers to complete 80,000 new units, the magazine reports. The subhead on the story's final section: "Stay Alive 'Til 2005" --!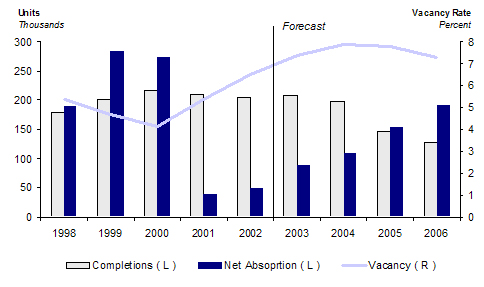 This scenario is pretty much the consensus for those who trouble to look at the multifamily market. The graphic above (showing a turn in 2005) comes from a July 7 posting by TortoWheaton Research -- which posts weekly commentaries on the nonresidential market. The commentaries are written for the company's building-owner clients, but still might be worthwhile reading for those visiting this site.
Next time: Part 3 provides details on some other major nonresidential subsectors as well as nonbuilding construction.
Joe Salimando of EFJ Enterprises is a consultant, web content provider, and wordsmith based in Oaken, Va. To e-mail him, click on the link in his name; or call 703-255-1428.
Personal Disclaimer: The appearance of the ambling pachyderm is indicative of the writer's obsession with elephants, not his political leanings.

IMPORTANT NOTE: THIS COLUMN REFLECTS ONLY THE OPINIONS OF ITS AUTHOR AND DOES NOT REFLECT THE OPINIONS OR POLICIES OF NAED, TED MAGAZINE, OR THE ADVERTISERS ON THE TEDMAG WEB SITE.
Joe Salimando Archives

Click here for the complete Joe Salimando Archives.