Fire Hazard — Vending Machines
Mike,

For years now I have valued your newsletters. The information is helpful in many ways.

I have come across something I believe is worth mentioning to my fellow newsletter readers. Our plant recently received several microwave ovens from a vendor for use in our vending area. I had the electrician check the units for load, which was found to be 15.8 amps, no problem. However, the electrician discovered that the plugs on the microwaves had been modified. See photo below.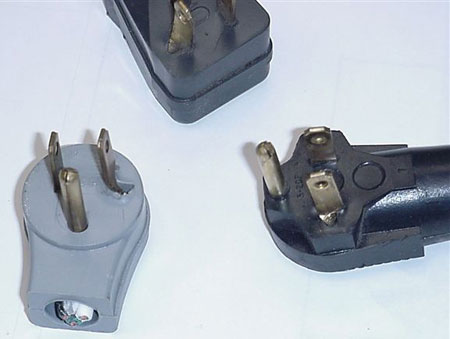 The NEMA 5-20P has been changed to 5-15P. A pair of side-cutters and the twist of a hand is all it takes.

Further investigation revealed almost 20 similar plug conversions in our vending area.

I hope you can let others know to be on the lookout for this. Needless to say this is a serious safety issue, violation of the NEC, and one that could easily result in a fire.

Please do not publish the company or my name.

Senior Electrical Engineer

Mike Holt's Comment: The proper solution would be to simply change the 15A rated receptacles with 20A rated receptacles, assuming that the circuit is rated 20A.
Gen. Requirements, Art. 80-285 Excluding 250 - Book only — 2002
Electrical installations such as; splices, terminals, working space, interruption rating, mechanical execution of work access, and guarding. Use and identification of the grounded (neutral) conductor and branch circuits, such as circuit rating, location of receptacles, switches and lights. This book was extracted from the full textbook titled, Illustrated Guide to Understanding the National Electrical Code.