Mike,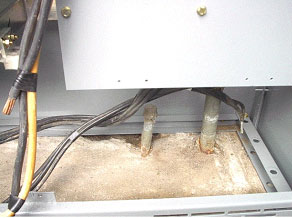 I thought my fellow Newsletter members would find this photo interesting. What we have is 1/2" rigid conduit with the cap on it. At first I thought someone drove a 10' length of rigid for a ground rod. But I soon found out it's a water pipe!
Wouldn't you like to see 30 or more pounds of water pressure shouting up inside live Switch Gear. I didn't either, that's why I got the plumber to move it out of the enclosure.
P.S. This is a 120/240V, 3-Phase, 4-Wire 400A service change.
Submitted by:
Craig Osborne
C.A.M Electric