Swimming Pool Bonding
As a leading expert on grounding and the NEC, Mike Holt has made it his purpose to keep people safe, and to teach electricians what to do to make sure that your pools, spas and hot tubs are safe to swim in. The risk associated with swimming pools is that of electric shock, due to a reduction of body resistance because a person is wet, and also the possibility that a person is in contact with earth potential.
The Consumer Product Safety Commission reports that since 1990 there have been 60 electrocutions and nearly 50 serious electrical shocks involving electrical hazards in and around swimming pools.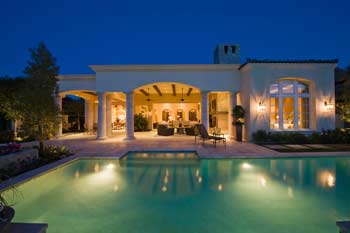 It's critical for every electrician to understand pool safety.
Not only do you need to know how to make a safe installation on a new swimming pool, but you need to know what to look for to inspect an existing pool to ensure that it's safe to swim in. The requirements contained in Article 680 apply to the installation of electrical wiring and equipment for swimming pools, spas, hot tubs, fountains and hydromassage bathtubs. The following stories are all tragic results of accidents due to electrified pool water. This should not be your story:
7-Year-Old Electrocuted in Family Pool
Another Near Tragedy - Terrifying Video of Kids Shocked in Pool
Man Electrocuted in Pool after Jumping in to Save Daughter

more tragic stories >>

Understanding pool bonding.
Before you consider checking a swimming pool for proper bonding and grounding, please ensure that you understand electrical fundamentals, grounding versus bonding, NEC requirements related to swimming pool bonding, Neutral-to-Earth (NEV) voltage related to utility wiring, and how to troubleshoot to ensure swimming pools are properly bonded.
Watch these 5 videos in the order listed. Then watch them again, especially if there's something that confused you. When you have watched all the clips and understand the content, download and print the PDFs.
Mike is dedicated to electrical safety and to educating electricians to be the best that they can be.