Low Voltage (Limited Energy) Exam Preparation
Many states now require a license to do low voltage work.
LIMITED ENERGY EXAM PREPARATION DVD LIBRARY
Using Mike Holt's program will deepen your understanding of electrical theory and the NEC rules that govern low voltage installations.
Youll understand the material faster with the hundreds of detailed color instructional graphics in the textbooks.
The DVDs provide an inside view and in-depth analysis by Mike and a panel of industry experts.
Even if you are not taking an exam but are interested in learning more about Limited Energy, we have products on these topics that will enhance your knowledge and performance.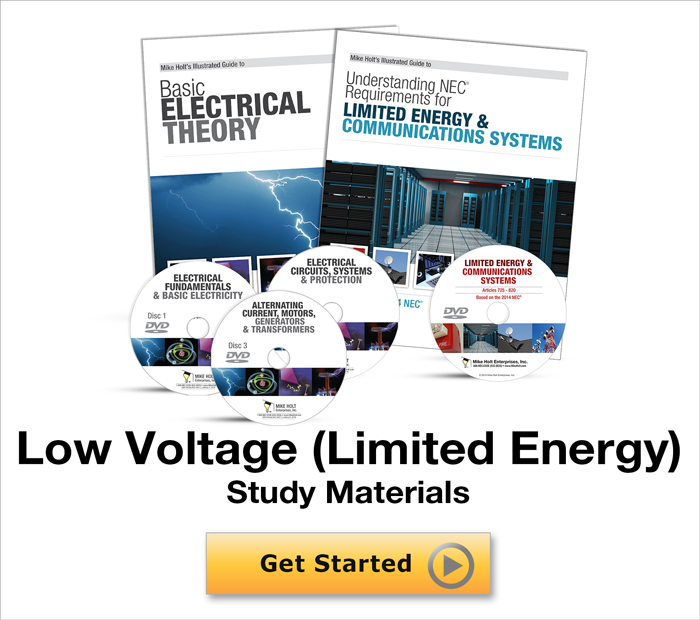 For personalized help in choosing the right program for you, call 888.632.2633 or email info@MikeHolt.com.

Click here to access our Contractor Licensing Boards State listing and familiarize yourself with the Low Voltage Licensing Requirements in your state.

Try our online Low-Voltage Quiz to test your strengths and weaknesses.
Your exam will cover topics that include basic electrical theory, estimating, grounding, power quality, low-voltage and power-limited systems and the National Electrical Code. This test will give you practice in these areas.
Review your Candidate Booklet to confirm what will be on your test.

Review our exam preparation products so that you can determine which product is best for your needs.